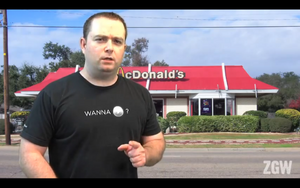 Robert Jennings is the creator of Zombie George Washington and voices him as well. He is also the 15th most subscribed person of all time on Youtube in the comedian section. He also has another series "Liam the Leprechaun," and has voiced many people on "The Annoying Orange." In Ask Zombie George Washington #3: Shane Dawson Bwains, he had a very short battle with Ronald McDonald, But he Failed At It.
Ad blocker interference detected!
Wikia is a free-to-use site that makes money from advertising. We have a modified experience for viewers using ad blockers

Wikia is not accessible if you've made further modifications. Remove the custom ad blocker rule(s) and the page will load as expected.