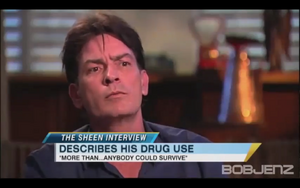 Carlos Irwin Estévez (born September 3, 1965), better known by his stage name Charlie Sheen, is an American film and television actor. He is the youngest son of actor Martin Sheen. He made an appearence in the Zombie George Washington episode The Charlie Sheen Interview, where ZGW interviews Charlie Sheen. At the end of the episode, Charlie had his brains eaten.
Charlie Sheen voiced himself in the episode.
Bobjenz voiced Charlie Sheen at the end of the episode, where he asks how his "tiger blood" tastes.